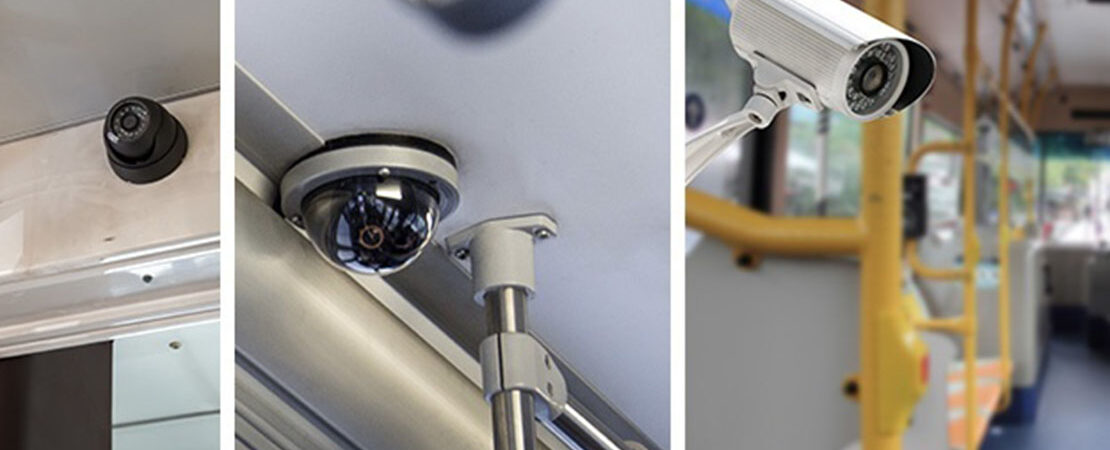 While the memory of a school bus being attacked in Gurgaon by an angry mob protesting against a movie release might be lingering in our minds, the visuals that were retrieved from the CCTV camera installed in the bus helped realize how grave the situation was.
However, we still hear cases of children being exposed to risk while travelling in school buses even in the presence of lady guard and driver#1
While CBSE has issued guidelines#2 to install the cameras in school buses, the ground reality seems to be otherwise#3.
Some schools have started installing 1 CCTV camera in their buses at the front to get the fitness certificate from the authorities, which helps them safeguard the school administration from legal non-compliance. However, can we really be assured that for a large vehicle, just 1 CCTV camera in the front will provide a full view of the bus, even till the rear seats? Shouldn't there be 2 CCTV cameras, 1 in the front and 1 at the back that covers the entire bus and all the seats?
The attitude of providing the safety infrastructure only for 'the sake of legal compliance', and not with true intent of safeguarding the children seems to be prevalent amongst schools. There are many reasons behind this sad reality though – Lack of available and reliable options, issues in terms of continued performance in a moving vehicle with jerks and temperature fluctuations and cost of initial investment that the school doesn't recover from the parents.
There are mainly 3 kinds of options available in the market, for which we have done a comparison on some important parameters here: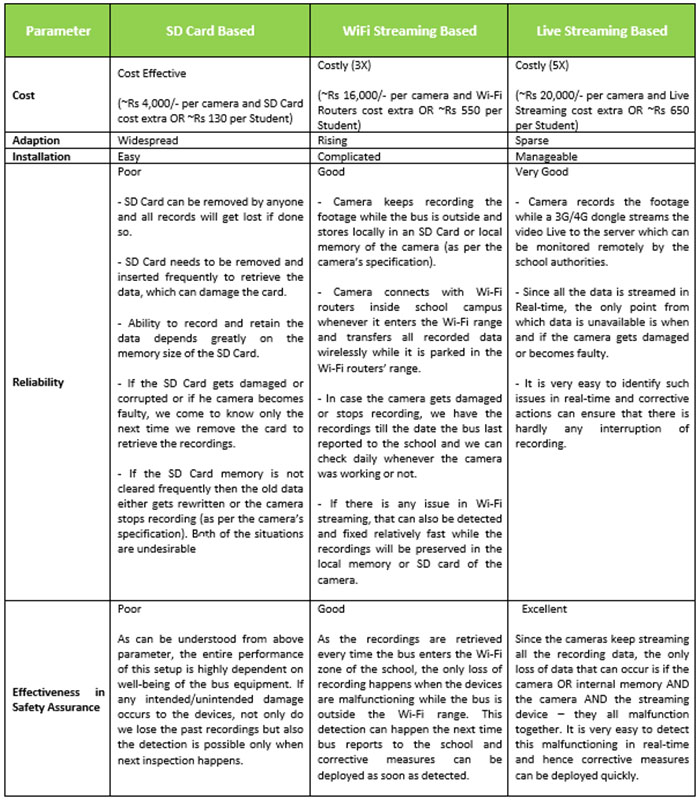 Many parents have shown willingness to bear an increase in the bus tariff for their children's safety in case the school has budgetary issues with financing this additional infrastructure. Also, many schools are recognizing the need for such a solution to be in place and taking proactive steps to ensure that the parents and the school administration have peace of mind while their children are on board their buses.
It is high time that that parents sensitize their schools to put in the necessary infrastructure that can deter miscreants and we urge the schools to spread awareness in their fraternity to acknowledge the need. After all, no cost is high cost, when it comes to child safety! 
#1 Ghaziabad: Girl 'sexually harassed' in school bus, class XI boy gets bail (The Indian Express, 18th Dec 2017)
#2 CBSE Circular Subject 'Safety of school children in school bus)
#3 No CCTV cams in most school buses (Times of India, 18th Dec 2017)
Safetrax integrates with Capita School Information Management System 
Capita SIMS has been helping schools for nearly 30 years. The SIMS management information system is now at the centre of 21,000 schools internationally in over 40 countries. Their award-winning product range enables schools to manage students and staff information across all areas of school life. It provides the information that helps teachers to spot when a child starts to fall behind, to identify and tackle behaviour or attendance issues, to keep parents informed, to efficiently manage finances and to cut administration to a bare minimum.
Safetrax, a leading IoT player in the School Bus Tracking System provides end-to-end tracking of School children – right from boarding of a child from her home to the School and back. Parents are able to track the whereabouts of their wards through the entire school bus trip using Safetrax Parent App available on their iOS or Android phones.
Recently, one of the prestigious schools in New Delhi who use Capita for their School Management and Safetrax for their School Bus Tracking wanted to explore integrating both the systems in order to automate and improve their attendance management systems.
Safetrax was quick to respond to the need and performed the integration along with Capita in no time. This was made possible due to Safetrax' flat data model and easy to use REST API. As Safetrax is built ground up for scalability and extendibility, it took no time to pair the data fields in the two systems and complete the integration. The school management is now able to track student entry and exit in a single system.