October 26, 2023
Posted by:

Gyan Prakash

Category:

Blog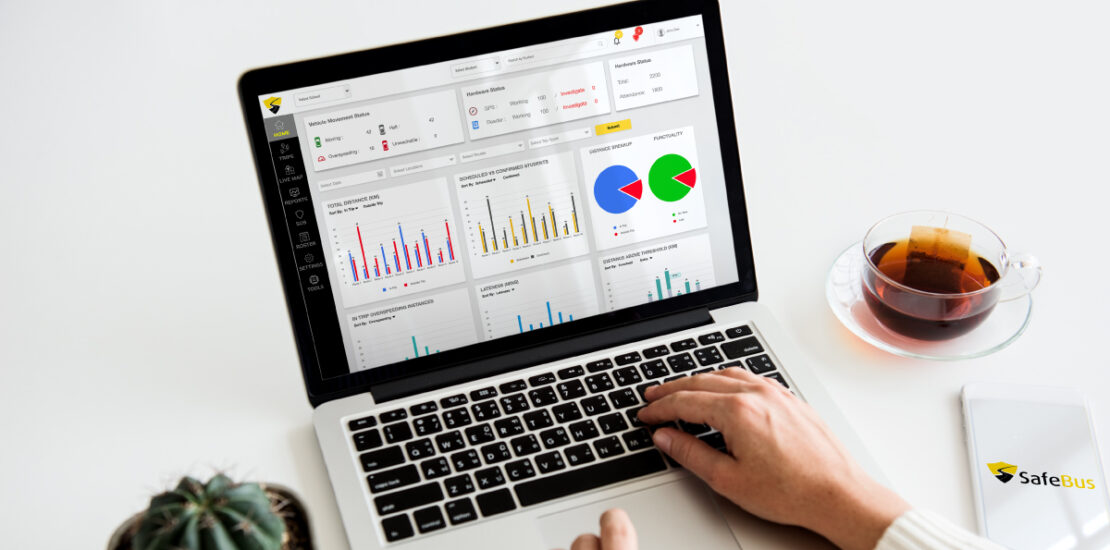 Modern schools have embraced new-age techniques for teaching and learning in the rapidly changing educational landscape. While schools have made great gains in the classroom, school transportation administration is often stuck in the past, relying on manual techniques for scheduling, routing, and tracking. This difference between cutting-edge teaching methods and antiquated transportation management creates a huge gap in the overall school experience.
Therefore, schools must take a comprehensive approach to modernization. This includes the adoption of school bus tracking systems. These systems facilitate live tracking, seamless communication, real-time notifications, and more.
Continue reading as we explore the advantages of integrating a school bus tracking system into the modern school's ecosystem.
What is a School Bus Tracking System?
Primarily, the school bus tracking system helps school admins and parents live track school bus locations and movements via online platforms and mobile apps. An advanced tracking system like SafeBus comes with a comprehensive suite of digital tools – an Admin Dashboard, Parent App, and Driver / Attendant App.
Using the admin dashboard and parent app, both schools and parents can track the location of school bus and be assured of students' safety and security. This helps schools gain parents' trust and offer them peace of mind. Moreover, the tracking system also provides insights into driving behavior such as over speeding or frequent route deviations.
In addition to this, the school bus tracking system also enables schools to automate their daily transport operations and experience 100% transparency. The system can simplify auto-routing, report generation, and real-time information for admins.
Key Features of a School Bus Tracking System
A school bus tracking system uses advanced technology allowing parents and school authorities to monitor the bus's current location. This provides them with a sense of security and peace of mind regarding their child's safety.
Here are a few key features of a school bus tracking system:
Live Tracking: The system allows parents to track the real-time location of the school bus. They can be aware of the route the driver is taking if there will be any delays, and when it will be arriving at the designated stop.
24/7 Support: Access to customer support round the clock ensures that parents can get assistance and information whenever they need it, whether during normal school hours or in case of emergencies.
SOS Alerts: In case of emergencies or unforeseen situations, a panic button or SOS feature allows drivers or students to send distress signals, triggering an immediate response from authorities.
Stop-Wise Student Data: Drivers can access information about the students they are responsible for, including their names, photos, and drop locations. This helps drivers ensure that the right students are picked up and dropped off at the correct locations. 
Student Attendance: Driver or school bus attendants can now mark the student present as soon as the child boards. All this can be done in a single click, eliminating the need of coordinating manually on calls.
Benefits of Implementing a School Bus Tracking System
A school bus tracking system provides school admins and parents with comprehensive visibility and control over their child's transportation. 
Here are some key benefits of a school bus tracking system:
Real-Time Monitoring: With live tracking and real-time notifications, both schools and parents can monitor the child's live location and be assured of their safety. It helps them in staying informed in case of any delay or route deviation.
Ease Of Record Keeping: Manual record-keeping can be a time-consuming activity that frequently necessitates the use of additional staff. The implementation of advanced technology like SafeBus will automate the process of attendance recording for schools. Moreover, admins also have access to complete data of the students on each bus route.
Simplified Maintenance Schedule: The school will also receive reminders when a bus is due for scheduled repair thanks to the modern school bus tracking system. This reduces downtime and costly breakdowns, and the school transport crew will be able to precisely plan replacement school buses when the buses are sent for maintenance.
Cost-Savings: Low costs are one of the primary benefits of a school bus tracking system. Using the tool, drivers can optimise their routes saving fuel and maintenance costs. Plus, school administrators can analyse reports to make strategic decisions on how to allocate resources and cut costs further.
Improved Student Safety: A school bus tracking system improves student safety by providing key benefits such as live tracking and SOS alerts.  With this feature, both schools and parents can monitor the school bus's location and route in real-time, giving them peace of mind.
How to Choose the Right School Bus Tracking System?
The process of selecting the best school bus tracking platform can be broken down into four parts:
Research: Begin by contacting schools in your area that have adopted school bus tracking software and gathering information from them about the hardware, software, manufacturer, price, and so on. You may also conduct an online search for the numerous providers who offer the solution. You may also read more articles like this one to get a complete picture of the many solutions on the market.
Demo: During the demo step, make sure to check the user interface of the software – how easy it is to use. Check to see if the new solution is simple to install and integrate with your existing systems.
Features: While each software has its unique features, there are some basic functions that you cannot compromise on such as real-time tracking, SOS alerts, student attendance, and more. Also, ensure that your selected vendor offers dedicated apps for parents and drivers for better communication.
Invest In A School Bus Tracking System Now!
A school bus tracking system notifies parents in real time of any delays and gives thorough reports on a variety of topics, including vehicle usage and driver management. The software also leverages advanced technology, and an all-in-one admin console to provide real-time tracking and comprehensive management tools. 
If you're confused about which school bus tracking system to integrate into your school's management, we recommend checking out SafeBus. The school bus management software helps you manage your school buses with ease.