September 24, 2021
Posted by:

Satvir

Category:

Uncategorized
Although online education continues to be the predominant method of teaching and learning, schools have cautiously started opening up in India after the second wave. Parents prefer sending their children to school to attend classes physically as children have immensely suffered academically. Only after the due consent of parents will children be able to participate in school, wherein School administrators cannot enforce attendance.
Schools have to mandatorily follow the social distancing guidelines laid out by CDC – Centers for Disease Control and Prevention and the SOP issued by Education Departments of States/UTs to stop the spread of the virus.
How SafeBus Enables A Safe Return To School For Students
With the reopening of school, both parents and school management are wary about the spread of corona, especially since many students would be unvaccinated.
Thus, using a professional tool like SafeBus is highly beneficial for the transportation administrators, that helps schools transport students safely using functions like deboarding, engine diagnostic, safe boarding, GPS tracking, driver behavior, SOS functionality, facemask detection, etc.
Considering digitizing in the entire operation offers a unique, comprehensive solution to daily School bus management.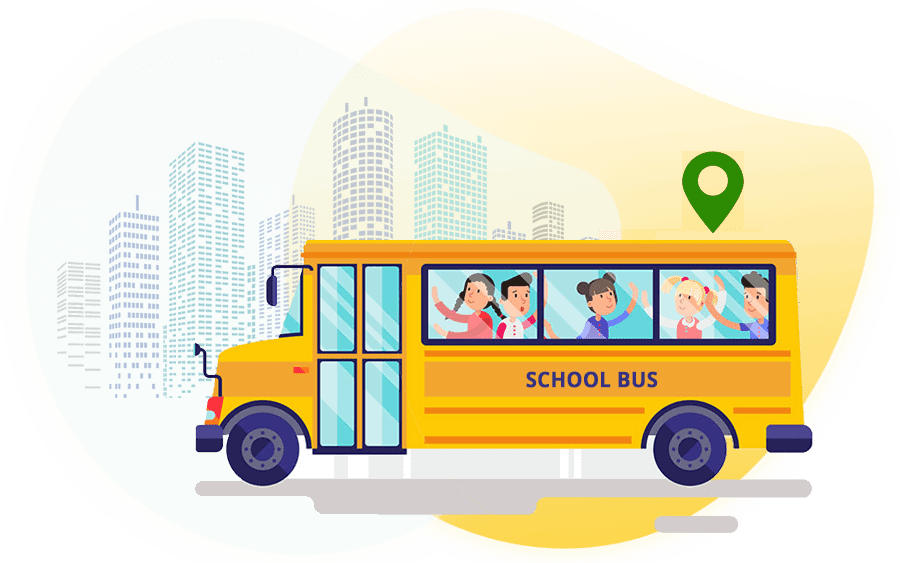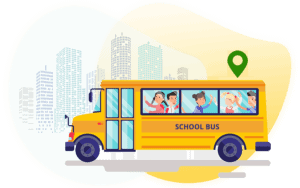 SafeBus Transportation Considerations
Several parameters are followed to promote safety and precautionary measures by School bus management to eliminate the challenges like physically distancing students on school buses:
Opening windows to enhance the circulation of outdoor air
Maintaining consistent, appropriate, and mandatory masks by adults and children at arrival or departure points and while on the school bus.
Arranging for extra masks in case a student does not have one.
Allowing one student to sit per row, skipping row when possible, and alternating window and aisle seating.
Providing a partition between driver and passenger sections.
Assigning each bus rider to a designated seat.
Installing signage with visual cues to help students with vision or reading disabilities.
Banning the consumption of food and beverages aboard buses
Avoiding congregating in groups while waiting for the bus.
Encouraging parents to drive or walk their children to school, to reduce the number of students on buses.
Transportation Safety Protocols That The School Management Follows With SafeBus
To enable transportation safety during the COVID-19 pandemic, SafeBus follows the following measures:
1. Mandatory masks
To prevent the spread of COVID-19 on school buses, everyone must wear a well-fitted mask covering their mouth and nose at all times.
2. Making brief trips 
An ideal school bus routing system ensures that bus trips do not take more than 15 minutes and adjusts routes to shorten ride times to minimize the risk of COVID-19.
3. Leaving most seats empty
The CDC recommends one child per row and seated in nonadjacent seats. SafeBus ensures the School transportation fills the buses to one-quarter of their capacity following a hybrid approach.
4. Using specialized air purifiers 
As recommended, the windows should be kept open. While the windows are closed, SafeBus safeguards safety by retrofitting buses with medical-grade air filtration systems or high-efficiency particulate air (HEPA) filters to reduce the transmission of the coronavirus.
5. Discouraging the use of AC or heat 
HVAC systems can enhance the spread of airborne droplets, increasing the risk of infection. But when the windows are left open, the same systems remove contagion-carrying droplets and bring in the fresh air.
6. Specialized protection to bus drivers
Encouraging drivers to wear N95 masks, constantly testing them for COVID-19, installing Plexiglass barriers between the bus driver and the door, having additional adults on the bus, and the high-grade personal protective equipment offered by SafeBus would increase the protection of students against the virus.
7. Maintaining good hygiene
This incorporates checking every child's temperature, conducting a thermal screening, installing hand sanitizer dispensers and small touchless trash cans.
8. Thorough Sanitization
The School bus management is encouraged to clean buses between routes, disinfect vehicles daily, and not use a bus for 24 hours if someone on board had COVID-19.
Wrapping it up
The School transportation must use professional setups like SafeBus to ensure the safety and protection of their students against coronavirus and other health issues. While technological advancements may monitor and control many factors, but schools must take the initiative to diligently follow pointers like:
Maintaining physical distance at all times by students, staff, and teachers
Encouraging parents to use their transport
Students should attend schools on a rotation basis with staggered arrival and departure timings.
Using the assistance of Traffic Police or Volunteers to regulate traffic outside schools.
Screening of all, including staff members.
Sensitizing parents about personal hygiene, personal health, and cleanliness of children; also guiding them not to send children to school if they suffer from cough, cold, fever, or breathlessness.
Advising everyone to download the Arogya Setu App.
SafeBus assists and promotes a safe return to school with its comprehensive transport precautions. Following these steps regularly and staying sensitive to the need for safety and medical hygiene ensures that schools reopen without jeopardizing their student' well-being.