September 17, 2020
Posted by:

Satvir

Category:

Blog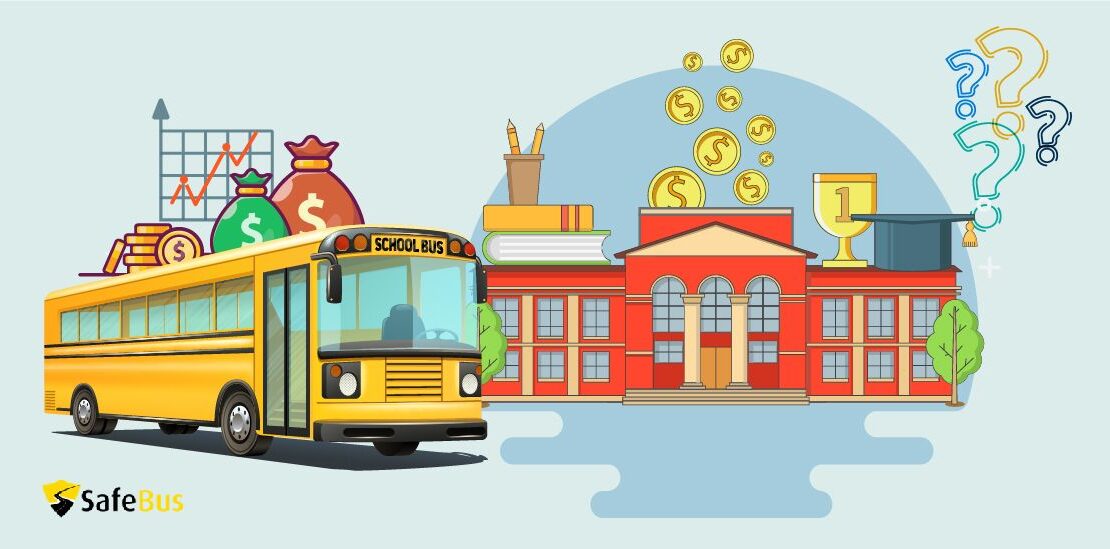 It is important for schools, school admins, and school districts to balance their revenue and income. So, school admins & school districts constantly focus on reducing the operational costs wherever possible without losing sleep over the quality of education. Reducing operating costs is nothing but controlling expenses by avoiding unnecessary spending or reducing costs to stay within budget. School bus transportation costs will be the foremost target for school districts and admins to reduce their operational costs.  Apart from transportation costs, there are many other ways to reduce operational costs. So, let's discuss how to reduce operational costs and school bus transportation costs in detail.
Here are some key points which help schools, school admins, and school districts to reduce the day-to-day operational costs.
Budget Plan
School districts need to create a proper budget plan with a list of activities, academic sessions, and specific strategies to carry out throughout the academic year and need to benchmark the progress and expenses. School districts need to compare the costs of all the schools available in the district and need to make suitable budget decisions based on the limitations. Balancing the school budget is most important as excess balance in school districts indicates that the money is not being used wisely.
Staffing costs
Hiring staff will be a major cost part of any school district budget plan. On average, 70-80% of the budget will be spent on staff or employees, both teaching and non-teaching staff. Recruitment costs need to be reduced by retaining the staff while reducing workloads. Schools need to utilize their staff effectively. Schools need to maintain a balance between teaching and non-teaching staff.  It's always suggested recruiting full-time staff rather than depending on part-time staff to reduce the cost to management.
Redefining roles & responsibilities
Redefining the roles of an employee will give better overall productivity for the school. Schools must utilize staff in multi-tasking through extra perks which can reduce the total expenses. Allow teaching staff additional responsibility for extra pay, incentives, bonuses which will reduce total staff and save school expenses.
Minimize Administrative costs with Technology
In general, many schools and school districts maintain an elaborate front office with multiple administrators, consultants, and superintendents who help in providing a great experience but are not always necessary to facilitate onboarding. It's better to reduce administrative manpower and save on expenses by using onboarding technology and automating some of the tasks which the front office focuses on. Integrating supportive technology also saves expenses.
Transportation costs
As mentioned at the beginning, school bus transportation is the first target for school districts and admins to reduce their operational costs. Expenses on fuel are one of the highest expenses for schools. Schools can reduce transportation costs in many ways as discussed below.
Click here to know Safety measures for parents & Schools during COVID19
How can school districts reduce School bus operating (transportation) costs?
School bus transportation costs depend on multiple factors such as insurance charges, maintenance costs, fuel consumption, vehicle condition, and more. School buses operating efficiently will influence the overall cost of school transportation. Here are some of the key points to reduce school bus operating costs.
Reduce School Buses
Operating or maintaining a school bus is not an easy task and is expensive. So, it's better to reduce the number of school buses, which directly reduces the driver wages, fuel costs, maintenance charges, insurance charges, and many more and which reduces school district expenses.
Route planning
Route planning is used to increase the operational efficiency of school buses. Under a school district, a single bus might be used by multiple schools for a single route. It reduces the bus running time, fuel consumption, maintenance charges and reduces the total number of operating buses that will impact the school bus transportation costs.
Trip planning
The number of students at each bus stop and bus capacity will impact the bus routes. School bus administrators need to minimize the number of trips and the number of buses required for schools to manage school transportation. If there are different timings for different classes then you need to run multiple trips to the same location. Instead, by adjusting the class timings, then you can maintain a single trip for all students which will save fuel consumption and bus maintenance charges.
Route optimization
Route optimization or management is the best way to reduce school transportation costs without compromising on service quality. Technology helps school districts and school administrators to optimize routes by mapping students automatically. Automating route optimization also reduces the number of trips based on the historical data and which will reduce the expenses.
School bus tracking system
Installing a school bus management & tracking platform not only ensures student's safety but also helps school admins and school districts to monitor & track and optimize routes which will increase overall fuel efficiency and reduce operational costs.
Reduce the frequency of bus stops
Need to evaluate the walking distance between 2 bus stops, If it's too close then need to cancel one bus stop and must create a common bus stop. Students can walk a bit to get from one place to another. This will reduce total transportation costs and vehicle running time on the road.
Maintenance costs
Regular maintenance will extend the lifetime of school buses with safety on roads. Regular maintenance also reduces the unexpected breakdown and the costs associated with revival. A longer lifetime of school buses indirectly saves the operating costs for school districts.
Walking School Bus
Students can group together and walk to school under the supervision of the school admin. This is called a walking school bus, which is a new concept in the USA. Under the route optimization techniques routes closer to schools will be removed and the walking school bus methods will be utilized to reduce the transportation expenses.
These are just a handful of methods and techniques that have been successfully used to reduce school operational costs for school districts across the globe. We hope you found these inputs valuable in minimizing expenses.