September 21, 2023
Posted by:

Gyan Prakash

Category:

Blog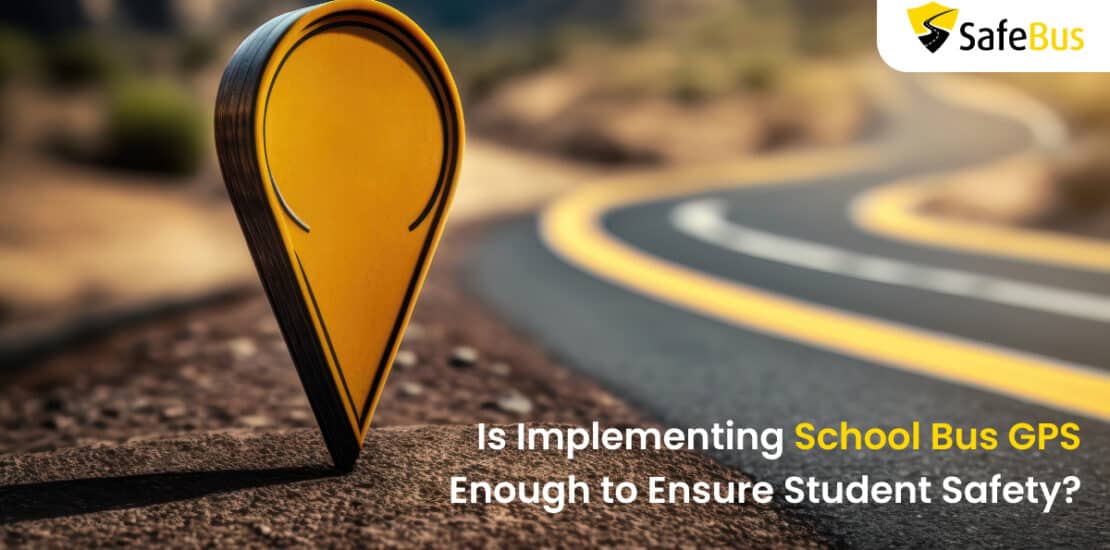 Student safety is the school's prime concern when it comes to school bus transportation. With this increasing focus on student well-being, the adoption of GPS technology in school buses has gained popularity. However, it's crucial for schools to understand that while GPS provides valuable tracking capabilities, relying solely on this technology is insufficient to guarantee student safety. 
In this blog, we will explore the limitations of school bus GPS and how schools can deal with them by integrating school bus management software.
The Rise of GPS in School Transportation
The Implementation of GPS in school buses helps school admins track school buses in real-time. The school bus GPS technology has brought a sense of security to schools. As a result, today schools are one of the prominent industries that contribute to the increasing use of the GPS tracking device market. Currently, the GPS tracking device market is globally valued at USD 3.1 Billion in 2023. In fact, it is growing at a CAGR of 13.1%, which is estimated to increase its worth up to USD 5.7 Billion.
Limitations of Using GPS Alone
However, despite its multiple advantages, GPS technology needs to improve in certain critical areas which might compromise student safety.
GPS Only Tracks Device's Location: GPS primarily focuses on tracking the bus's location but doesn't provide comprehensive student safety measures. This might leave students vulnerable to various risks like being left from pick-up or drop, missed attendance, and more.
Inability to Monitor Driver Behavior and Vehicle Maintenance: While a GPS can successfully track the location of a bus, it is incapable of tracking other important aspects. This majorly includes monitoring driver behavior or vehicle maintenance, which equally affects student safety.
Potential Gaps in Communication: Depending solely on GPS may lead to gaps in communication between school authorities and parents. This makes it difficult for drivers and attendants to coordinate with them during delays or any emergencies.
Integrating School Bus GPS with School Bus Management Software
To address various GPS limitations, school bus management software like SafeBus emerges as a holistic solution. Other than live tracking, the system also helps schools automate their transport operations and have better control over them. SafeBus' diverse functionalities such as student attendance marking, speed & SOS alerts, real-time notifications, ETA notifications for parents, and more help enhance student safety. Additionally, schools also get a comprehensive suite of digital tools which include an admin dashboard and dedicated apps for parents, drivers, and attendants.
Let's understand what additional things a school bus management system can do for your school when seamlessly integrated with a GPS.
Efficient Route Planning & Scheduling: The school bus management software eliminates manual route planning and automates the whole route planning and scheduling process. The admin can simply upload the student database with mandatory fields in SafeBus and it will automatically design the most efficient routes. This further reduces travel time and fuel consumption.
Receive Real-Time Notifications: By integrating a school bus management system with GPS schools will receive real-time notifications for more things, other than just bus' location. These majorly include updates related to traffic, route deviations, delays, and more. In fact, with an individual school bus management software also admins can received real-time notifications via driver or attendant app.
Reporting & Analytics: This SafeBus functionality enables schools to monitor and analyze driver behavior and driving patterns. Admins can automatically generate reports for driver punctuality, SOS cases, overspeeding, and more. This helps them maintain a safer commuting environment for students and also improves unsafe driving practices.
Mark Student Attendance: Drivers and attendants can use the SafeBus app to mark student attendance. This instantly updates the admin about present and absent students.
Unmatched Chat Support: GPS only provides you with information, not any assistance. However, SafeBus offers unmatched assistance to parents and schools for technical and other product-related issues.
Improve Parental Improvement: With a dedicated parent app, SafeBus ensures complete parental involvement with active participation. Parents can live track trips, mark their child as absent, receive ETA, etc., which can contribute significantly to enhancing safety measures.
Strengthen Communication: SafeBus digital tools – admin dashboard, parent app, and driver/ attendant app are well-networked to work in real-time. This enables parents to know about their child's location, boarding & deboarding status, bus ETA, and more without any delays.
Conclusion
While GPS technology has undoubtedly improved the tracking of school buses, it alone is insufficient to ensure comprehensive student safety. A school bus management software like SafeBus offers a holistic solution that addresses the limitations of GPS and provides enhanced safety measures. The safety of our children should always be our top priority, and school bus management software is a crucial step towards achieving that goal.