October 9, 2020
Posted by:

Satvir

Category:

Blog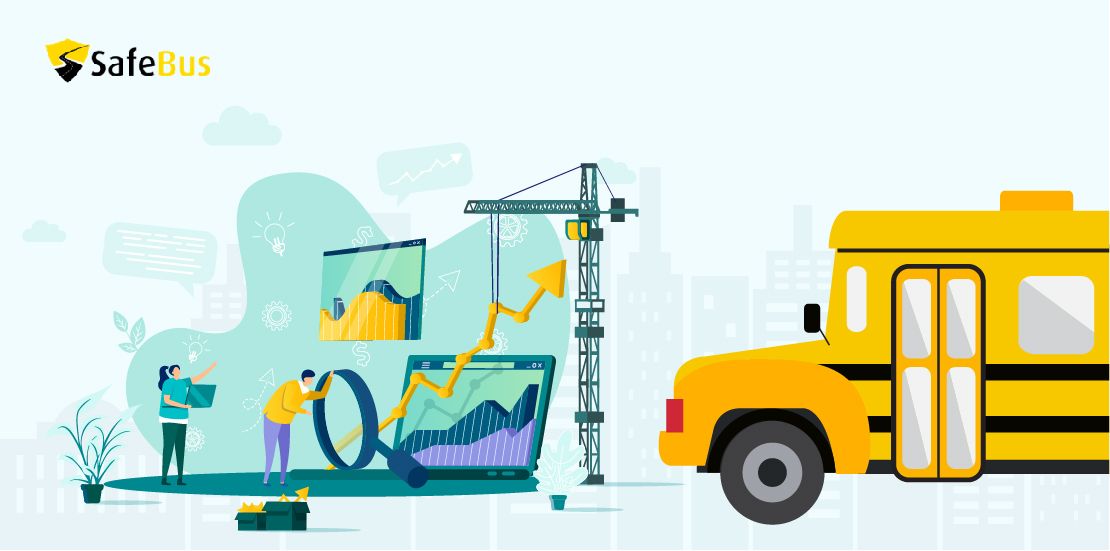 Slowly people from all industries are coming out from the global pandemic and starting their day to day activities. The education industry is getting ready to start schools by taking necessary precautions. Here are the safety measures for parents, schools, and students while going back to schools during covid19.  Once schools start there will be more pressure on parents and transport managers to manage student or school transportation. In the past few years, the education sector was greatly influenced by technology and most of the IT companies are targeting the education sector especially school transportation. Due to high competition and demand, there are dynamic changes in school transport management year by year.
Nowadays, almost all the schools are providing bus transportation facilities to students and staff. The safety and security of their students & staff are the primary concerns of school management. Better safety, lower operational costs are the main reasons that drive the adoption of technology for managing school transportation. In this aspect, many trends are emerging by ensuring student safety & peace of mind to parents. Here are some of the key trends in school transport management that are implemented by most of the schools which also attract parents and transport managers.
Route optimization
Earlier route planning & student mapping was the toughest task in school transport management. School bus management platforms have made this task much more simplified. One can automatically optimize the bus routes and reduce the bus stops based on the students and distances. 
School bus tracking
With technological advancements, everybody wants to track everything. Most parents and transport managers are far more interested in tracking school bus movements in real-time. Most of the schools are using different types of school bus tracking systems for effective school transport management and tracking.
School bus attendance
In this fast-paced society, everybody is busy with their tight schedules and parents are worrying about their kids traveling to school and back home. So, most of the schools are implementing technology-based student id cards that were integrated with RFID, NFC, and other technologies. With these arrangements' parents will get instant notifications to their mobiles when their kid's board and deboard from the school bus. Which also helps school management to provide safe and secure transit to students.
Click here to know, How can school districts reduce their operational costs?
Live camera feed
CCTV or camera live feed will help drivers, parents, and school transport managers to view students inside the school bus through their respective apps. They can monitor or keep an eye on student's behavior, activities, seating, and more which helps to regulate student's discipline. It saves a lot of time and provides safety, convenience, and peace of mind to all.
Alcohol detection
We have seen many incidents where drivers were influenced by alcohol and caused accidents by hiding it. To avoid such things, we need to implement alcohol detection technology in all school buses. It can be installed on the school bus steering wheel, which will detect unsafe driving because of alcohol and stop the vehicle before it reaches the road and provides more safety to students.
Wi-Fi on buses
Wi-Fi on school buses is the most important and necessary feature to enable all the software to work without any interruption and saves money and time. Generally, students spend much time on the school bus, Wi-Fi will help them to learn new things either by studying or searching for relevant materials.
Time-based block heating
There are many cold places in the world. Heating the bus engines in the morning times is a common issue in cold places. To avoid, schools are using a time-based block heating mechanism. It is a pre-programmed mechanism in this, a smart timer in the block heater automatically ignites the engine and will be ready when the driver reaches the bus to start the trip.
Tracking app for parents, drivers, and transport managers
Mobile apps for parents, drivers, and transport managers will help to track school buses in real-time. They can communicate with each other through a mobile app for better communication. They can receive regular ETA notifications and alerts when students board/deboard the school bus. A parent can reassign the pickup and drop points without hassles, transport managers and drivers can optimize the routes based on the Realtime traffic which will be auto notified to parents.
 These are some of the latest trends that are influencing school transport management. These trends will help bus drivers to have better control of the school bus and which will give peace of mind to parents and school authorities. A School bus tracking system helps parents and schools to keep an eye on children/students while they are traveling on the school buses. And ensures student safety to parents, transport management, and drivers.